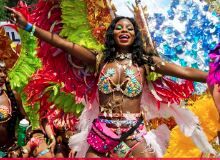 Toronto Caribana 2022… Ready to Dance to Soca
After a two year absence, Toronto Caribana 2022 is BACK with a vengeance!!!
Gone are the glory days when Caribana was held on University Ave. and you could jump up with your favourite band(s)… not partitioned behind fences. But, we make the most of it and jump, wine and grind anyway!
Yes, there are also many spectators and families there taking in the spectacle and everyone ends up at least dancing a bit when they feel the positive vibrations, energy and they move with the pulsating beats of ( mainly ) Soca music.
Caribana is one of the largest street events in Canada with estimates of 1.3 million attendees. Surprisingly, the vast majority of our multicultural Torontonians haven't been there….
No worries though because Mind Body Soul Studios will be there!!! Unfortunately, we don't have a float this year BUT…. Some of our Dance Fitness Socacize members have been "training" and are getting ready to enjoy the jump up.
For the people who haven't been before, they can learn from the seasoned veterans who know that to enjoy Caribana to the max you have to be prepared… Some Caribana "experts" jump up all day and then go to Caribana themed parties at night. Phew… I'm tired just thinking about it.
If you want to get ready for Caribana 2022, start by joining some Socacize dance fitness classes to get fit and learn some Soca dance moves. Dancing and getting a good cardio workout is one of the best ways to make sure you'll have the stamina to enjoy all that Caribana has to offer. If you miss Caribana in Toronto, many major cities have similar events… You might see Mind Body Soul Studios reppin Scarborough in London for Notting Hill Carnival August 27th or New York Carnival Labor Day in Brooklynn September 5th or in Miami October 8th for their Carnival etc. etc. etc.
See you on d road…